Order Head East's New Release "Full Circle"





UPDATE - NOV 9, 2023



The Cleopatra Records Website now has

Full Circle

in stock in

CD and vinyl

formats. Order your copies today through the Cleopatra Records Website at:
https://cleorecs.com/store/?s=%22Head+east%22&post_type=product



* The Vinyl LP contains 10 tracks and does not include the 3 bonus tracks that are included in the CD format.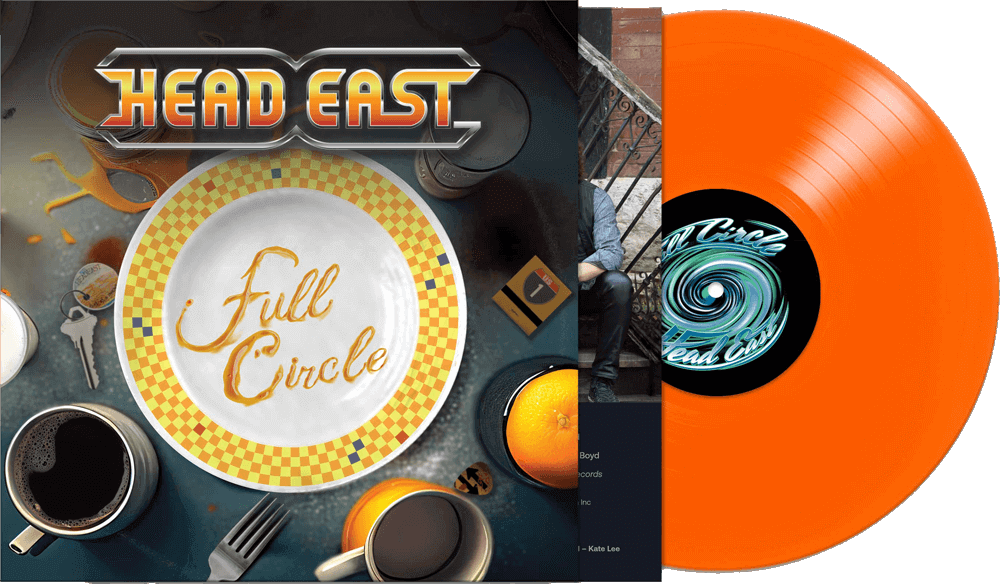 ---
Head East Full Circle Promo Video
Press play button to begin video
Video created by Lisa Murtha
---



New Single Released From Upcoming Album/CD



We are pleased to announce that the new single 

Treat Me Right

, from Head East's new album and CD titled

Full Circle

, has been released and is now available for on-demand streaming and digital download. Head East began recording

Treat Me Right

in early 1980, and has remained unfinished and unreleased until now. This single is a joint effort between the classic A&M Records line-up of the band and the current line-up who have made additional vocal and instrumental contributions to the song. Fans can download or stream the new single through most online platforms to include Spotify, iTunes, Amazon Music, and many more. The song has been covered by several artists over the years but we think that you are going to love the new version by Head East that really rocks!

The full track listing for the album and CD are listed below:



ALBUM TRACK LISTING:





Side A

-  Never Been Any Reason, Since You Been Gone, City Of Gold, Fly By Night Lady, Raise A Little Hell


* All songs on side A are newly recorded studio versions of previously released Head East classics.





Side B

- Treat Me Right, If You Knew Me Better, Say Yeah!, Prisoner, You Can't Go Home


* Side B contains new studio recordings of both Head East classics and new Head East songs.





Bonus Tracks (CD Only):

 Jefftown Creek, One Against The Other, Love Me Tonight


* All bonus tracks are newly recorded studio versions of Head East classics.




---
Hettenhausen Center for the Arts - April 2024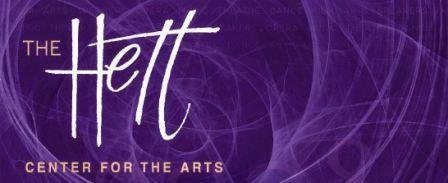 Head East will be live in concert at the Hettenhausen Center for the Performing Arts at McKendree University in Lebanon, Illinois on April 19, 2024. Head East is scheduled to take the stage at 7:30 pm and perform a 90 minute set. Tickets are available to the public for $15, $35, and $40 and go on sale at noon (CDT) on August 14, 2023. Tickets go on sale a week earlier at reduced prices for persons with "Friends of Hett" status (see the McKendree University Website linked below for details). Tickets may be purchased at the Hettenhausen Center Box Office in person or by calling (618) 537-6863. Box Office hours are Monday - Friday from noon to 4 pm each day. Tickets may be purchased online through the McKendree University website. This is a small venue holding less than 500 fans so get your tickets before they are gone.



McKendree University Website:


https://mckendree.universitytickets.com/w/event.aspx?id=1923



Buy Tickets:


https://mckendree.universitytickets.com/w/event.aspx?id=1923


---



RFP Music & Interview Special with Roger Boyd



Head East band leader Roger Boyd was recently interviewed by Andy Olson for Radio Free Phoenix (RFP) in conjunction with Head East's concert scheduled for September 21st at the Celebrity Theater in Phoenix, Arizona with Blue Öyster Cult in a Danny Zelisko Presents show. Andy talks with Roger about the band, it's history and also plays 9 Head East songs to include 4 songs from their upcoming new album,

Full Circle

.

Click on the play button below to listen to the interview.


RFP Music & Interview with Roger Boyd
---



Mozark Festival - A Tribute to the 70s



See Head East at the Mozark Festival scheduled for September 20, 21, and 22, 2024 at the Missouri State Fairgrounds in Sedalia, Missouri. The festival will feature both Country and Rock bands which will perform on 2 stages.

Head East will be perfoming on the main stage along with Starship featuring Mickey Thomas, Glenn Hughes, The Pat Travers Band, Molly Hatchet, John Schneider (former star of the Dukes of Hazzard TV show), Petra, The Frontmen featuring lead singers from Lonestar, Restless Heart and Little Texas, Revisiting Creedence, Danny Coker and his band Counts 77, Tammy Graham, and Michael Peterson.

Several tribute bands will perform on the second stage including Black Magic, Heart of the Journey, Ridin the Storm Out, The King of Queens, Seven Bridges, and Icon Country.

The 3-day festival will also have the traveling Vietnam Memorial Wall on display, and there will be car shows and craft shows, and a Kid Zone for children. Several food trucks will be on hand where fans can purchase food and drinks.

The band schedule has not yet been announced so we do not currently know which day or time each band will be playing. So check back for updates on the band schedule. 3-day tickets are currently on sale online through Stubwire at the address linked below. Single day tickets are not available at this time. For more information visit the Mozark Festivel website linked below:



Mozark Festival Website:


https://mozarkfest.com/



Buy Tickets:


https://www.stubwire.com/event/mozarkfestivalsalutetotheseventies/missouristatefairgroundsgrandstand/sedalia/30405/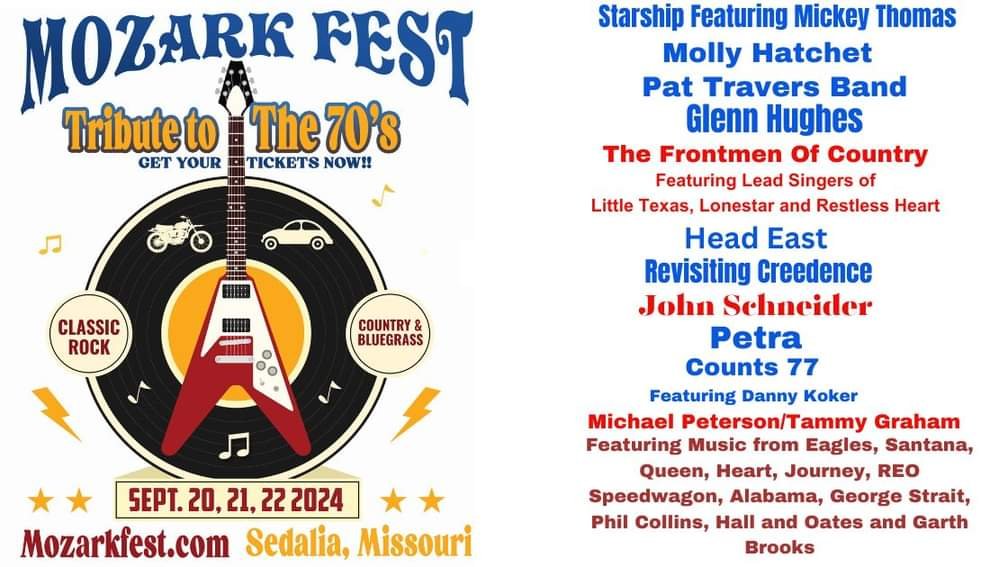 ---



Head East 1970s Road Crew Reunion



Members of Head East's 1970s road crew recently held a reunion in honor of founding band member Steve Huston who passed away on July 25, 2023. The Reunion was held at the iconic Olivette Diner formerly known as the Rite Way Diner, which is where the photo was taken from the back cover of the band's debut album, "Flat As A Pancake".

Pictured below in the front row are crewmembers Mark Boatman, Dewey "D-Day" Townsend, Jay Wilkinson, and Dennis Fisher who are positioned to the left and right of Head East band leader Roger Boyd in the center. Crew members shown behind the front row include Stanley Gill, Gloria Wilkinson (wardrobe designer), Dave Cooper, and Floyd Brown. Aso pictured are family members Cindy Keeler, Rita Boyd, Luz Perez, Missy Wilkinson, and Head East fan and Wings of Hope pilot Phil Koch (top left).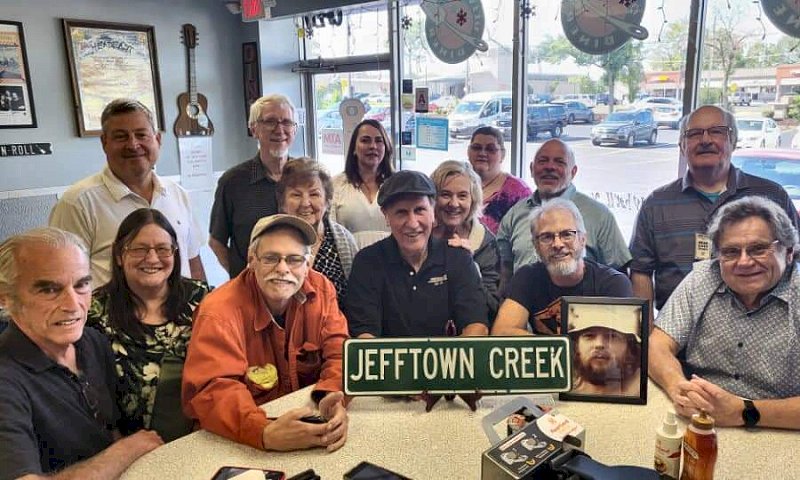 ---



Devon Lakeshore Amphitheater Concert Photos



Concert photos from the August 19, 2023 show at the Devon Lakeshore Amphitheater in Decatur, Illinois may be viewed in our 2023 Concert Gallery at the address linked below.

Photos from this show are courtesy of photographer Jody Andresen

.



Devon Lakeshore Amphitheater Concert Photos:


https://www.head-east.com/concertgallery2023pt4.html


Photo by Jody Andresen
---
RIAA Gold Certification


We are pleased to announced that the Head East anthem

Never Been Any Reason

has been certified gold by the Recording Industry Association of America (RIAA). The gold certification recognizes sales of half a million copies for this single release which was first issued on the A&M Records label on June 11, 1975.

A special thanks goes out to Mary Ingman whose tireless efforts working with Universal Music Group ultimately led to the completion of the required audit to verify record sales and the certification of gold status by the RIAA. Many people have contributed to this accomplishment as noted by Mary Ingman in the paragraphs below.


The success of

"Never Been Any Reason"

doesn't fall into the hands of just one person. It involves the hard work of many dedicated and talented people. Starting with Mike Somerville, the songwriter, to Roger Boyd who produced an incredible album, the

"Flat As A Pancake"

band members (Roger Boyd, Steve Huston, Mike Somerville, John Schlitt, and Dan Birney), the A&M Records label, Mary Ann and Jerry Milam of the Golden Voice Recording Studio, etc... All played an integral part in producing a well-known and liked record such as

"Reason."



Then it continues with the fans buying and playing the record along with radio stations promoting and playing the song, Head East continuing to be out there touring, putting on shows (thanks to the on-going efforts of Roger Boyd) and all the band members though the years all the way up to the present band (Roger Boyd, Darren Walker, Greg Manahan, Eddy Jones, and Mark Murtha), which by the way is phenomenal. Then there was Adam Brady who kept the Head East Fan page going, playing the Head East "Song of the Day", and Drew Willis, for keeping everyone updated on news via the Head East website and newsletter. I'm forever grateful to each and every one who was involved and continues to be involved in the music of one of the best classic rock bands out there, Head East.

Fans interested in learning more about the RIAA certification process and the critieria for certification should visit the RIAA website at the address linked below:

https://www.riaa.com/gold-platinum/certification-criteria/


---