Head East and Loverboy - Northern Lights Casino



See Head East and Loverboy in concert on Saturday, June 12th at the Northern Lights Casino in Walker, Minnesota. This is an outdoor tent event open to ages 18 and over. Tickets are now on sale and are $24, $29, & $34 (plus fees and taxes). Tickets that were already purchased for the previously scheduled June 6, 2020 show will be honored on the new date. For additional information or to purchase tickets visit the casino's website or their tickets page on Yapsody.com at the addresses below:



Northern Lights Casino Website:


https://www.northernlightscasino.com/



Buy Tickets Online:


https://leechlakegaming.yapsody.com/event/index/548636/loverboy-head-east


---



Waterford River Rhythms Summer Concert Series



Head East will perform at the River Rhythms summer concert series at Village Hall Park in Waterford, Wisconsin on Thursday evening, June 24, 2021. Head East takes the stage at 7pm (CDT) for this free outdoor show. For more information visit the Waterford River Rhythms website linked below:



Waterford River Rhythms Website:


http://waterfordriverrhythms.org/


---



Beach Bash Festival - Two Rivers, WI



Head East will headline the Beach Bash Festival on Friday, June 25, 2021. This is a free outdoor show at Neshotah Beach in Two Rivers, WIsconsin. Depot Express will open the show at 6:00 pm followed by Head East who will take the stage at 10:00 pm and close the show. In addition to live entertainment, the Beach Bash Festival has games, carnival rides, food vendors, and more. For additional information visit the Beach Bash Festival website at the address below:



Beach Bash Festival Website:


https://beachbashtr.com/beach-bash-2021


---



Monroe Co. HNS Concert Fundraiser Update





* UPDATED - April 11, 2021



The Monroe County House of Neighborly Service has rescheduled the April 15, 2021 Head East dinner/concert for Friday, October 1, 2021. This event will be held at The Falls Reception and Conference Center In Columbia, Illinois. Tickets sales for this event will resume shortly. Check back for additional information on this event. If you have purchased tickets for one of the previously scheduled dates your tickets are still good. If you have any questions, please call the Monroe County House of Neighborly Service at (618) 939-8900 or e-mail Tina at hns.tina@gmail.com or Kelly at KellyLLerch@gmail.com.



House of Neighborly Service Website:


https://mocohouseofneighborlyservice.weebly.com/


---



Head East & REO Speedwagon - McGrath Amphitheatre



See Head East with REO Speedwagon on July 3rd at the McGrath Amphitheatre in Cedar Rapids, Iowa. Gates open at 6:00 pm and the show will begin at 7:00 pm. Head East will open and will be followed by REO Speedwagon who will headline and close the show. Tickets are now on sale through Ticketmaster or by calling the ticket office at (319) 731‌-4510. For more information or to purchase tickets online visit the Cedar Rapids Events Live! website or Ticketmaster at the addresses below:



CR Events Live! Website:


https://www.creventslive.com/events/2021/reo-speedwagon



Buy Tickets Online:


https://www.ticketmaster.com/reo-speedwagon-cedar-rapids-iowa-07-03-2021/event/0600586987883D71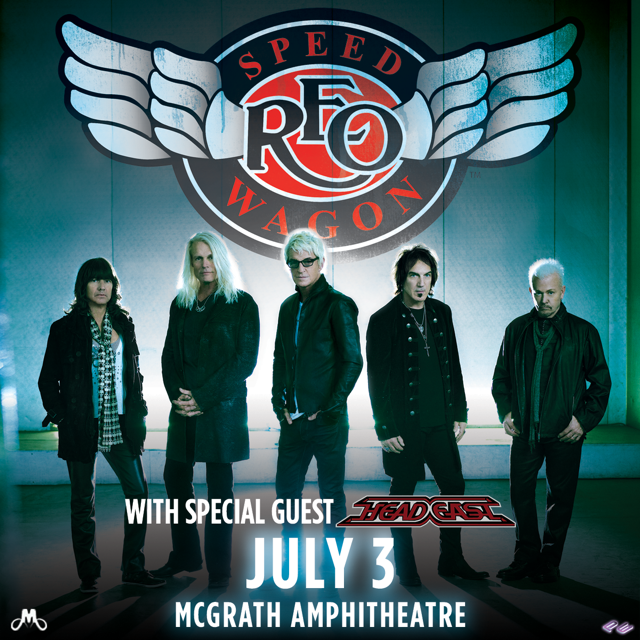 ---



Head East & REO Speedwagon - Ozarks Amphitheater



See Head East with REO Speedwagon on July 4th at the Ozarks Amphitheater in Camdenton, Misouri. Gates open at 6:00 pm and the show will begin at 7:00 pm. Head East will open and will be followed by REO Speedwagon who will headline and close the show. Tickets start at $35 and are now on sale through Ticketmaster or by calling the Amphitheater Box Office at (573) 346-0000. For additional information or to purchase tickets online visit the Ozarks Amphitheater website or Ticketmaster at the addresses below:



Ozarks Amphitheater Website:


https://ozarksamphitheater.com/



Buy Tickets Online:


https://www.ticketmaster.com/event/06005831B61A464C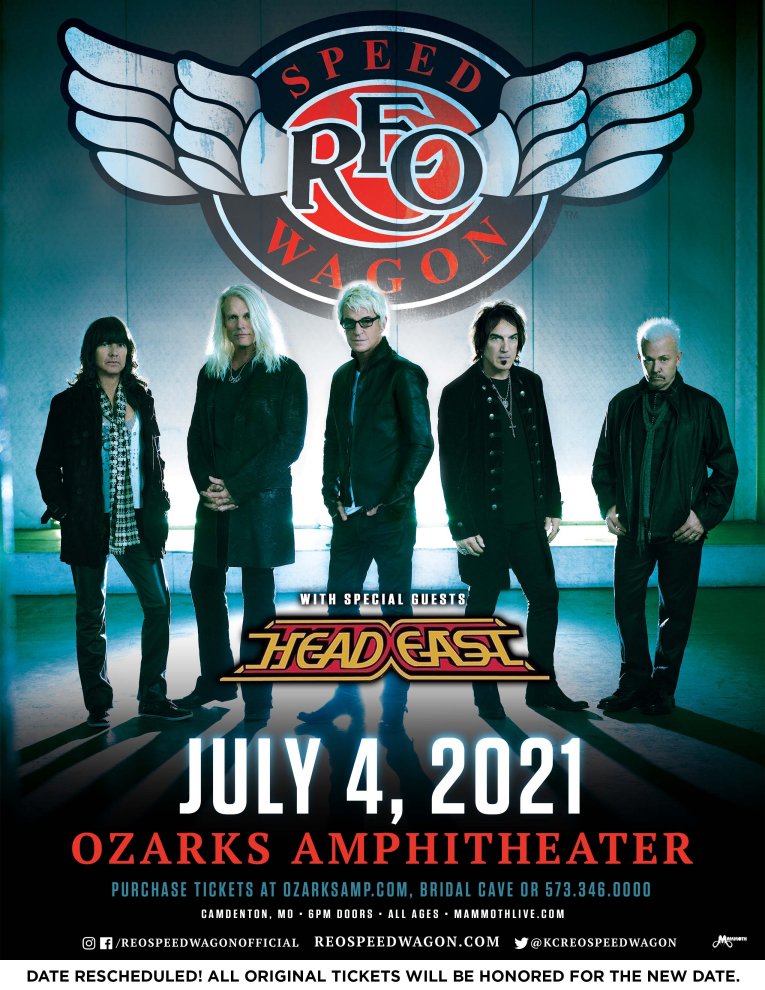 ---



Head East & Blue Oyster Cult - United Wireless Arena



Head East will open the show for Blue Oyster Cult at United Wireless Arena on Friday, July 9th. Tickets go on sale to the public on Friday, May 14, 2021 at 10:00 am (CDT). Check back for updates on this show.



United Wireless Arena Website:


https://www.unitedwirelessarena.com/



Buy Tickets Online:


https://www.ticketmaster.com/blue-oyster-cult-dodge-city-kansas-07-09-2021/event/06005AAA9BED293E


---



Head East & REO Speedwagon - 2021 Madison Co. Fair



Head East and REO Speedwagon who were originallly schedule to play at the 2020 Madison County Fair & Rodeo in Madison, Nebraska will now perform at the 2021 fair on July 10th. Last May the fair's board of directors decided to call off the 2020 fair, which had been set for early July, because of the COVID-19 pandemic and directed health measures. Tickets for the 2021 fair went on sale on December 5, 2020. General admission concert tickets are $30 and Reserved tickets are $40 (prices do not include taxes and fees). For additional information or to purchase tickets visit the fair's website or their tickets page on Etix.com at the addresses below:



Madison Co. Fair & Rodeo Website:


https://sites.google.com/site/madisoncountyfairnebraska/



Buy Tickets Online:


https://www.etix.com/ticket/v/13115/madison-county-fair-and-rodeo


---



Wildey Theatre Concerts - July 2021



The Head East concerts initially scheduled for Friday, January 29th and Saturday, January 30th at the Wildey Theatre in Edwardsville, Illinois have been rescheduled.

The concerts will now be held on Friday, July 23rd and Saturday, July 24th

. All previously purchased tickets have been automatically transferred to the new dates (Friday to Friday, Saturday to Saturday). If you are unable to make the new date please call the Wildey Box Office at (618) 307-1750 for refund optioins.

All seats for both performances are $50 plus fees. Fans who have not purchased tickets yet may do so through the Wildey Theatre Box Office or online on at the addresses linked below. For additional information or to purchase tickets visit the Wildey Theatre Website at the addresses linked below:



Wildey Theatre Homepage

:
http://wildeytheatre.com/



Purchase Tickets July 23rd Show

:
https://ci.ovationtix.com/36241/pr/1044372/pe/10666712



Purchase Tickets July 24th Show

:
https://ci.ovationtix.com/36241/pr/1044372/pe/10666713


---



2021 Door County Fair - Sturgeon Bay, WI



Head East will headline the Midway Music Stage on Friday evening, July 30th at the 150th Door County Fair in Sturgeon Bay, Wisconsin. Head East was originally scheduled to perform at last year's fair which was canceled due to the COVID-19 pandemic. Opening this year's show will be special guests Richrath Project 313 featuring the music of REO Speedwagon and honoring legendary REO guitarists Gary Richrath. Admission to the concert is free with paid fair admission.



Door County Fair Website:


https://www.doorcountyfair.com/


---



Head East & Missouri - Clear Creek Event Center



Head East will headline the show at the Clear Creek Event Center in Garden City, Missouri on Saturday, August 14th. Gates open at 1:00 pm and the show begins at 6:00 pm. Rock & Roll Never Forgets (Bob Seger Tribute), and the Damien Gunn Band will kick off the music followed by Missouri and Head East who will close the show. This is an outdoor concert. Tickets are now on sale online through Tix.com. For more information or to purchase tickets visit the Clear Creek Event Center Facebook Page or Tix.com website at the addresses below:



Clear Creek Events Center Facebook Page:


https://www.facebook.com/events/811578162796054



Buy Tickets Online:


https://www.tix.com/ticket-sales/flyingdreams/6411/event/1220380


---



Head East & Carl Dixon - Riviera Theatre





* UPDATED - APRIL 9, 2021



See Head East in concert with special guest Carl Dixon (formerly of Coney Hatch, The Guess Who, and April Wine) at the Riviera Theatre in North Tonawanda, NY on August 29, 2021. Carl Dixon will open the show at 7:00 pm and Head East will follow and close the show. Tickets are $29 for all seats and are now on sale online. For more information or to buy tickets online visit the websites linked below:



Riviera Theatre Website:


https://rivieratheatre.org/



Carl Dixon Website:


https://www.carldixon.com/



Buy Tickets:


https://ci.ovationtix.com/35813/pr/1044922/pe/10670139


---



Roof Garden Ballroom Concert - Arnolds Park, IA





* UPDATE - APRIL 12, 2021



Head East returns to Arnolds Park's Roof Garden Ballroom on Friday evening, September 3, 2021. Doors open at 6:30 pm and The Jade Murphy Band will open at 7:30 pm. Head East will follow and close the show. Tickets are now on sale with Individual tickets selling for $20 in advance and $25 the day of the show. Booth prices (8 tickets) sell for $360. For additional information or to buy tickets to this event visit the websites at the addresses below:



Roof Garden Ballroom Website:


https://roofgardenballroom.com/event/head-east/



Buy Tickets Online:


https://blinkamusement.idealss.net/eTick/Default.aspx?SiteID=2370&PageID=Concerts



* Once on the ticket page, scroll down until you see Head East Concert Ticket and Concert Booth listed.




---



Fall Classic 2021- Bonnie & Clyde's Gangster Park



See Head East on the main stage at Fall Classic 2021 at Bonnie and Clyde's Gangster Park in Harshaw, Wisconsin on Saturday evening, September 18, 2021. Also performing will be Boogie & the Yo-Yoz. Daily admission to Gangster Park during Fall Classic 2021 is $10. For additional information visit the Gangster Park website at the address below:



Gangster Park Website:


https://gangsterpark.com/fall-classic-2021


---



Wildwood Springs Lodge Reunion Concert





* UPDATED - MAR 03, 2021



Head East will return to the Wildwood Springs Lodge in Steelville, Missouri on Saturday, October 23, 2021. This is a Reunion Concert which will feature original members performing on stage along with the current line-up of Head East. Ticket holders for last fall's canceled shows should address any questions to the Wildwood Springs Lodge. Several ticket options are available for this show to include packages that include dinner and lodging. Fans who have not yet purchased tickets can purchase tickets online for the October 23rd show at the address linked below:



Wildwood Springs Lodge Website:


https://wildwoodspringssales.com/concerts/2016-concert-series/head-east-reunion-oct-23-2021/



Purchase Tickets:


https://www.tix.com/ticket-sales/wildwoodsprings/5933/event/1156150


---



Peoria Civic Center Theatre Concert Rescheduled





* UPDATED - AUGUST 05, 2020



The REO Speedwagon and Head East concert originally scheduled for April 1, 2020 at the Peoria Civic Center Theatre in Peoria, IL has been rescheduled and

will be held on Wednesday, November 3, 2021

. Tickets are now on sale for the 2021 show and are $46 & up for balcony seating and $71 & up for floor seating (plus fees and taxes). Tickets that were already purchased for the April 1, 2020 show will be honored on the new date. For additional information or to purchase tickets visit the Peoria Civic Center Website or Ticketmaster at the addresses below:



Peoria Civic Center Website:


https://www.peoriaciviccenter.com/events/2020/reo-speedwagon



View Tickets on Ticketmaster:


https://www.ticketmaster.com/event/070057848D042A19



---