Port Fish Day - Port Washington, Wisconsin



Originating in 1964, Port Fish day is held each year on the third Saturday in July in Port Washington, Wisconsin. This event includes an Arts and Craft Festival, a Classic and Late Model Car Show, live entertainment on four stages, and much more. Main Stage entertainment will kick off at 3:30 pm with Brecken Miles, followed by SFO (Journey Tribute with a salute to Foreigner, & Kansas) and Head East who will take the stage at 8:00 pm. A fireworks show on the lakefront will begin at approx. 9:30 pm.

There is no charge to enter the Port Fish Day grounds. However, to enter the Main Stage area where Head East is performing you will need a Fish Day Button. Fish Day Buttons can be purchased at Fish Day for $5.00 each or are available in advance from many of the event's sponsors. For additional information or to view a list of sponsors visit the Post Fish Day website at the addresses below:

https://portfishday.com

https://portfishday.com/sponsorship


---
Decatur Celebration - Decatur, Illinois



Head East will headline Friday evening's entertainment at the 2019 Decatur Celebration in downtown Decatur, Illinois on August 2nd. Head East is scheduled to take the stage at 9:30 pm. For additional info visit the 2019 Decatur Celebration Facebook page at the address below:

https://www.facebook.com/celebrationfriends/


---
Rev Up Summer at McGrath Dubuque Harley-Davidson



See Head East live in concert on Saturday evening, August 3rd for the McGrath Dubuque Harley-Davidson "Rev Up Summer" celebration at their Harley-Davidson dealership in Dubuque, Iowa. This is a free outdoor concert so come on out and enjoy some great music. For more information visit the McGrath Dubuque Harley-Davidson Facebook page and Official Website at the addresses below:

https://www.dubuqueharley-davidson.com

https://www.facebook.com/DubuqueHarley


---
In Memory of Dirk C. Webster



Head East deeply regrets to announce the unexpected passing of our friend and crew member Dirk C. Webster. Dirk was a stage manager in the music industry for most of his life, having worked for Head East, The Lovin'' Spoonful, Paul Revere & the Raiders, and many more. Dirk worked with Head East several times over the years and had recently rejoined the Head East Family. He was a go-to guy you could always count on and was a great friend to the band and crew member. Our deepest sympathies go out to his family, especially his son, Donovon.

A celebration of Dirk's Life will be held for Family and friends on Saturday, June 29th at his childhood home in Rockford, Illinois.



Dirk's Obituary on Legacy.com:


https://www.legacy.com/obituaries/rrstar/obituary.aspx?n=dirk-c-webster&pid=193214632&fhid=14630


---
Little River Casino Concert Photos



Photos from Head East's May 4th Reunion Concert at the Little River Casino in Manistee, Michigan can be viewed in our 2019 Concert Gallery at the address below.

www.head-east.com/concertgallery2019pt6.html


---
Devils Lake Rockfest - Rockin' The Cove



Head East will headline Friday night's entertainment at Devils Lake Rockfest in Devils Lake, North Dakota. This two-day outdoor festival will be held on Friday, August 9th and Saturday, August 10th. Head East appears on August 9th only. On Friday the gates will open at 5:00 pm and Jay Ricochet and the BFD Band will kick off the music at 5:30 pm. They will be followed by SFO (Journey, Foreigner, Kansas Tribute) and Head East will close the show starting at 10:30 pm. This is an outdoor show held at Proz Lakeside at the Cove on Woodland Resort. Tickets are $42.95 for a weekend pass and are available online though the ticketbud.com website linked below:



Devils Lake Rockfest Website

:
https://www.prozlakesideatthecove.com/devils-rockfest/



Buy Tickets Online Through Ticketbud.com

:
https://ticketbud.com/events/343cddd6-4690-11e9-8f6d-42010a717005


---
Classic Moonfest - Quilcene, Washington



Head East will headline Saturday night's entertainment at the Classic Moonfest on August 10th. Classic Moonfest is a Rain or shine outdoor Classic Music and Classic Car show held on August 9-10, 2019. The festival is conveniently located near Quilcene Washington at the Lake Leland Amphitheater at the base of the Olympic Mountains. Just 13 miles west of the Hood Canal Bridge, then 5 miles south from the Hwy.101 / Hwy. 104 intersection.

Early bird tickets are on sale now through July 25th. Ticket prices will increase beginning on July 26th so get your early bird tickets now and save. Several ticket options are available including daily and weekend admission passes. Camping at the festival is encouraged.and daily RV or tent camping reservations are also available for purchase. For more information visit the Classic Moonfest website or their ticket vendor website at the addresses linked below:



Classic Moonfest Website

:
https://classicmoonfest.com/



Buy Tickets Online

:
https://www.brownpapertickets.com/event/4206837


---
Head East 50th Anniversary T-shirts



Do you remember the first time that you heard Head East? Many fans have vivid memories of first hearing the band on the radio or live at a show. Or playing that Head East LP, 8-track, or cassette for the first time. The front design of a new Head East 50th Anniversary T-shirt is based on this concept.

The design pays tribute to Head East's debut album

Flat As A Pancake

. The front of the shirt shows the album cued up on a turntable with the tag line,

I remember the first time…

, paying homage to the opening line from

Jefftown Creek

written by founding member and original drummer Steve Huston. The design on the back of the shirt has an updated version of the clock with Head East milestones and the heading

2019, 50 years and still rocking!



A second 50th Anniversary T-shirt is available in both a short and long sleeve women's garment and has the words

50th Head East

in gold Rhinestuds in tribute to Head East's Golden Anniversary. Both of the new shirt designs will be available for purchase at live shows on our 50th Anniversary Tour this year.

View each new design linked below:

View Large 50th Anniversary Turntable Design Front

View Large 50th Anniversary Clock Design Back

View 50th Anniversary Rhinestud Women's Long Sleeve Design

View 50th Anniversary Rhinestud Women's Short Sleeve Design


---
Centralia Balloon Fest



See Head East at the Centralia Balloon Fest in Centralia, Illinois on Saturday, August 17th. Head East will perform on the main stage from 8:30 - 10:00 pm. Admission to the festival is $3.00 payable at the gate. Parking is $3 per day at the north gate. Free parking is available at the old Centralia High School at 1000 E. Second Street. The South Central Transit (SCT) Shuttle is $1 per person - to and from the park on Friday and Saturday from 3:00 pm until 11:00 pm.

The Centralia Balloon Festival is held at Centralia Foundation Park. Family activities scheduled throughout the weekend include a craft fair, food vendors, free kids games and bounce houses, car shows, cardboard boat races, musical entertainment, and main stage bands. For additional information visit the Balloon Fest page of the Greater Centralia Chamber of Commerce linked below.

https://centraliachamber.com/balloon-fest


---
Arnolds Park Roof Garden Concert Series



Head East will perform at Arnolds Park as part of their Roof Garden Concert Series on Friday, August 30th. Doors open at 7:00 pm and the concert will begin at 8:00 pm. Tickets are $20.00 and can be purchased online through the Arnolds Park website. For morre information on Arnolds Park Amusement Park or to purchase tickets for the concert visit their official website at the addresses below:

Arnolds Park Website
https://www.arnoldspark.com/

Buy Concert Tickets:
https://blinkamusement.idealss.net/eTick/Default.aspx?SiteID=2370&PageID=Concerts


---
Head East and The Sweet at the Riviera Theatre



Head East returns to the Riviera Theatre in North Tonawanda, New York on Saturday, September 7th. Head East will co-headline with The Sweet best known for the hits

Little Willy

,

Ballroom Blitz

,

Fox on the Run

, and

Love is like Oxygen

which all reaced the top 10 on Billboard's Hot 100 singles chart in the 70s.

Tickets may be purchased on-line, over the telephone at (716) 692-2413 or in-person at the Theatre's Box Office. On-line sales are available 24 hours a day, 7 days a week. The Box Office is open for telephone and in-person sales Monday-Friday from 10:00am to 4:00pm. Tickets may also be purchased one hour prior to all events at the box office. For additional information or to purchase tickets visit the Riviera Theatre Website linked below.

Riviera Theatre Homepage

Purchase Tickets (Tickets go on sale to the public on Jan. 25th at 10:00 am (EST).


---
Vette City Motorcycle Music Festival



See Head East live in concert on September 14th at the Vette City Motorcyle Music Festival. This four day event from 12-15 September features over 20 bands. This event begins with a kick-off party from 5:00 pm to 11:00 pm on Thursday, September 12th at Harley Davidson Bowling Green on Cumberland Trace Road. The kick-off party is free and open to the public. The kick-off part will be followed by 3 days of music at Edge Hill Farm located at 13101 Louisville Road, Oakland, Kentucky. Head East will perform on Saturday, September 14th only along with Great White, Jackyl, and several other bands. Ticket are available online through the festival's website or can be purchased locally at Harley Davidson Bowling Green, The Bowling Green Daily News, and Pin Up Baggers Motorcycle Dealership in Newburgh, Indiana. For additional information visit the Vette City Motorcycle Music Festival website or Facebook page linked below:

Vette City Motorcycle Music Festival Official Website

Vette City Motorcycle Music Festival Official Facebook

Buy Tickets - Vette City Motorcycle Music Festival


---
Reunion Concert - Celebrate St. Peters



See Head East live in concert on the main stage at Celebrate St. Peters held at 370 Lakeside Park, St. Peters, Missouri on Saturday, September 21st. This is a Head East Reunion Concert featuring a special guest performance by A&M Records era band members Steve Huston, Mike Somerville, John Schlitt, and Roger Boyd along with the current line-up of the band. Journey tribute band SFO will kicks things off at 7:00 pm. A brilliant fireworks display will follow SFO's opening set, then Head East will take the stage performing a 90 minute set which will include their classic debut album "Flat As A Pancake" played cover to cover.

Friday night's main stage entertainment will kick off at 7:00 pm with Contagious from St. Louis, followed by Alyssa Lynn Little, and Country Legends Sawyer Brown who will headline and close the show.

In addition to musical entertainment, Celebrate St. Peters has carnvial rides, games, food & beverage vendors, and much more. And best of all it is free! So be sure to come out and have some fun and remember to bring lawn chairs or blankets to sit on at the concert. For additional details visit the Celebrate St. Peters webpage page linked below:

https://www.stpetersmo.net/celebrate-st-peters-.aspx



Click play to view Celebrate St. Peters band announcement video




---
Rock-N-Q On The Planes Festival



See Head East live in concert on Friday, October 18th at the Rock-N-Q On The Planes Festival held on the grounds of the Great Bend Expo Complex in Great Bend, Kansas. The bands Homebrew, Banshee, and Jake Gill are scheduled to open the show prior to Head East taking the stage for a 90 minute set. Headliner Skid Row will follow and close the show. Start times for each band have not yet been announced. Additional bands will play the following day on Saturday, October 19th. For more information see the event flyer below or visit the event's official website at the address below:



Rock-N-Q Festival Website

:
https://www.rocknq.com



Buy Tickets Through Wheatstatetickets.com

:
https://www.wheatstatetickets.com/e/rock-n-q-on-the-plains/tickets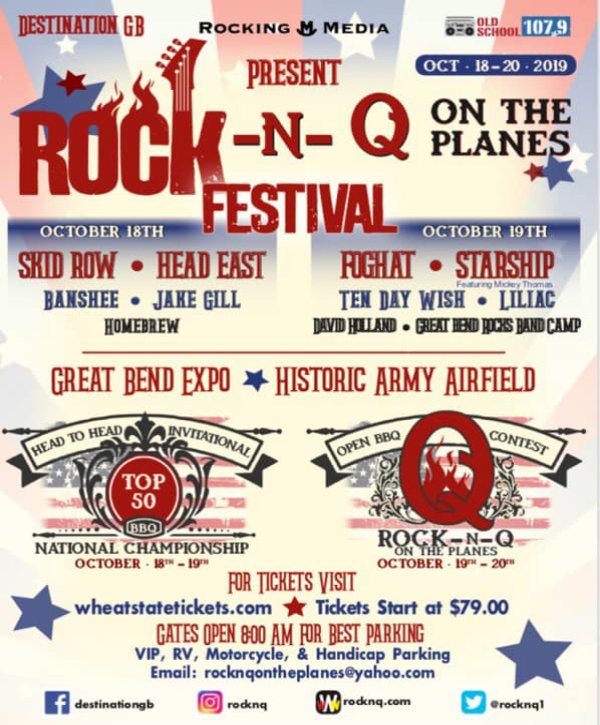 ---
Rock Legends Cruise VIII - 27 Feb to 2 March



Head East has been added to the band line-up of Rock Legends Cruise VIII which sails from Port Everglades in Fort Lauderdale, FL. on Feb. 27th and returns on Mar 2nd. More than 20 legendary acts will perform on the cruise aboard Royal Carribean's Independence of the Seas cruise ship. The following bands and solo performers are currently scheduled to perform on the cruise:

Roger Daltry, Paul Rodgers, Roger Hodgson, Robby Kreiger, UFO, Uriah Heep, Jonny Lang, Sebastian Bach, Elvin Bishop, Mark Farner, Atlanta Rhythm Section, The Immediate Family, Wet Willie, The Artimus Pyle Band, Head East, Gary Hoey, Angel, Larkin Poe, Two Wolf, Brandon "Taz" Niederauer, Steve Rodgers, Cour Supreme, and Goose.

The cruise is close to being sold out and a limited number of cabins remain for this cruise which was first announced in 2018. Tickets have been on sale since October 2018 and bands have been added to the line-up periodically since the announcement. Fans interested in this cruise should reserve their cabin now before they are all sold out. There is a wealth of information about the cruise on their official website and interested fans should read through the information prior to making a purchase. For more information visit the Rock Legends Cruise VIII website at the addresses linked below:

Rock Legends Cruise VIII Homepage:
https://rocklegendscruise.com

Rock Legends Cruise Cabin Pricing:
https://rocklegendscruise.com/pricing/

Rock Legends Cruise Reservations:
https://rocklegendscruise.rezmagic.com/booking/reservation/start?tripid=2980


---
Head East: A Labor Of Love - Now Available



Steve Huston's new book Head East: A Labor of Love is now available online through the Amazon, Barnes and Noble, and Books-A-Million websites. His book will also be available at the merchandise table at live shows beginning in January 2019. Steve is a founding member of Head East and the band's original drummer. The book contains 236 pages, 23 photographs (several in full color) and 33 stories about Steve's adventures with Head East. Steve will be available to sign books at any 2019 "Reunion Show" or any other Head East concert where he is making a special guest appearance. Fans who have already purchased Steve's book prior to attending a concert may bring their books to the concert for Steve to sign. To learn more about Steve and his newly released book visit his official website at the address below:

www.headeast-stevehuston.com

The book is available in paperback and ebook formats (Amazon Kindle and Barnes and Noble Nook). To order Steve's new book online go to Amazon, Barnes and Noble, or the Books-A-Million websites linked below:

Head East: A Labor of Love @ amazon.com

Head East: A Labor of Love @ barnesandnoble.com

Head East: A Labor of Love @ booksamillion.com


---
Head East 50th Anniversary Tour



Head East's 50th Anniversary Tour in 2019 will feature the band's debut album

Flat As A Pancake

played in its entirety during headlining shows. The band will also perform hits and fan favorites from "

Flat

" through their most recent release

Raise A Little Hell

. Additionally, some shows will be "Reunion Shows" with band members John Schlitt, Mike Somerville, and Steve Huston from the band's A&M Records years joining Roger Boyd and the current Head East line-up for the performance of the

Flat As A Pancake

album and a few additional Head East songs from the band's A&M Records era.

Dates and locations for the 2019 reunion shows are forthcoming and will be annotated as "Reunion Shows" on our website once posted. Check our tour dates page periodically for updates to the 2019 schedule.

Head East Tour Page