Wildey Theatre Concerts - January 2021



Head East returns to the Wildey Theatre in Edwardsville, IL on Friday, January 29th and Saturday, January 30th. All seats are $50 and are now on sale through the Wildey Theatre Website. For additional information visit the Wildey Theatre Website linked below:

Wildey Theatre Website


---



Head East and Iron Butterfly Concert Rescheduled





* UPDATE - AUGUST 31, 2020



Head East's October 10th concert with Iron Butterfly at the Arcada Theatre in St. Charles, IL

has been rescheduled for April 16, 2021

. Tickets purchased for the October 10, 2020 concert will be honored on the rescheduled date. If you can not attend on the new date please review information for using the venue's Show Credit Program or for requesting a refund which can be found at the address below:

https://www.arcadalive.com/postponed-shows-rescheduled-dates


---



HNS Concert Fundraiser Rescheduled for 2021





* UPDATE - JUNE 10, 2020



The Monroe County House of Neighborly Service (HNS) fundraiser concert scheduled for July 1st at The Falls Reception and Conference Center In Columbia, Illinois

has been rescheduled for April 15, 2021

. If you have already purchased tickets your tickets will be honored on the new date. If you have any questions, please call the Monroe County House of Neighborly Service at (618) 939-8900 or e-mail Tina at hns.tina@gmail.com or Kelly at KellyLLerch@gmail.com.



House of Neighborly Service Website:


https://mocohouseofneighborlyservice.weebly.com/


---



Message from Eddie Jones



Head East drummer Eddie Jones talks about some of his favorite moments with Head East.


* Unmute or adjust volume as necessary using the speaker icon on the player


---



Northern Lights Casino Concert Rescheduled



The Head East and Loverboy concert originally scheduled for June 6, 2020 at the Northern Lights Casino in Walker, MN has been rescheduled for Saturday, June 12, 2021. This is an outdoor tent event open to ages 18 and over. Tickets are now on sale and are $24, $29, & $34 (plus fees and taxes). Tickets that were already purchased for the June 6, 2020 show will be honored on the new date. For additional information or to purchase tickets visit the casino's Facebook Page or their tickets page on Yapsody.com at the addresses below:



Northern Lights Casino Website:


https://www.northernlightscasino.com/



Buy Tickets Online:


https://leechlakegaming.yapsody.com/event/index/548636/loverboy-head-east


---



Head East Celebrates Darren Walker's Birthday



The members of Head East recently got together for some long overdue band practice. They haven't played together since their appearance on the Rock Legends Cruise in late winter due to the COVID-19 Pandemic. Since they missed lead singer Darren Walker's birthday back in June, they took the opportunity at practice this past weekend to carryout a long standing band tradition. Members are usually pied in the face on their birthday at live concerts but the band made an exception this time around and creamed Darren at practice.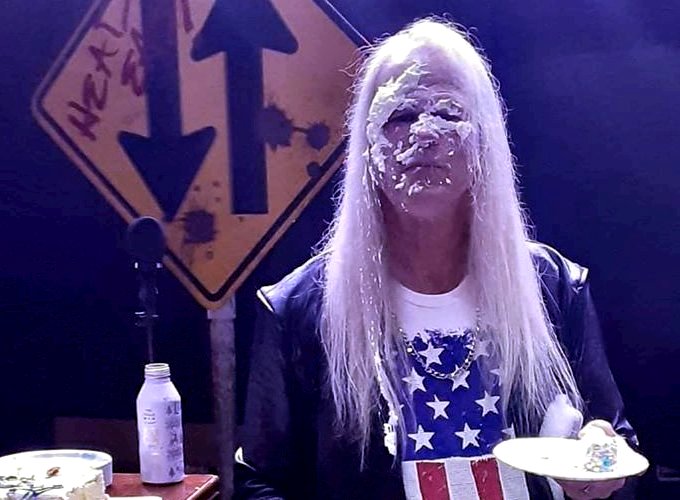 ---



Head East & REO Speedwagon - 2021 Madison Co. Fair



Head East and REO Speedwagon who were originallly schedule to play at the 2020 Madison County Fair & Rodeo in Madison, Nebraska will now perform at next year's fair on July 10th. In May, the fair's board of directors decided to call off this year's fair, which had been set for early July, because of the COVID-19 pandemic and directed health measures. Tickets for the 2021 fair are scheduled to go on sale on December 5, 2020. Please check back for updates on this event. We will post additional information as it becomes available.


---



Arnolds Park Roof Garden Concert Rescheduled





* UPDATE - JULY 22, 2020



The September 4, 2020 Head East concert at Arnolds Park Amusement Park's Roof Garden concert venue has been postponed until next year.

The rescheduled date for this concert is Friday, September 3, 2021

. Fans who have questions should check the amusement park's website or call them at (712) 332-2183.

https://arnoldspark.com/events/head-east-2021/


---



Riviera Theatre Concert Postponed





* UPDATE - JULY 27, 2020



Head East's concert at the Riviera Theatre in North Tonawanda, NY on October 17th has been postponed and is being rescheduled for 2021. Check our tour dates page periodically for updates to this concert.


---



Peoria Civic Center Theatre Concert Rescheduled





* UPDATE - AUGUST 05, 2020



The REO Speedwagon and Head East concert originally scheduled for April 1, 2020 at the Peoria Civic Center Theatre in Peoria, IL has been rescheduled for next year and

will be held on Wednesday, November 3, 2021

. Tickets are now on sale for next year's show and are $46 & up for balcony seating and $71 & up for floor seating (plus fees and taxes). Tickets that were already purchased for the April 1, 2020 show will be honored on the new date. For additional information or to purchase tickets visit the Peoria Civic Center Website or Ticketmaster at the addresses below:



Peoria Civic Center Website:


https://www.peoriaciviccenter.com/events/2020/reo-speedwagon



View Tickets on Ticketmaster:


https://www.ticketmaster.com/event/070057848D042A19


---



Message from Greg Manahan



Head East bassist Greg Manahan speaks from his home to fans about some of his favorite moments with Head East.


* Unmute or adjust volume as necessary using the speaker icon on the player


---



Head East Concert Photos



Concert Photos from select shows over the past two years can be viewed on the Concert Gallery page of our website. Use the arrows at the bottom of each page of photos to navigate through all the posted concert photos.

http://www.head-east.com/concertgallery2020pt3.html



---