Centralia Balloon Fest



*

UPDATE AUGUST 18, 2019

-

Due to severe weather, Head East's Saturday, August 17th performance at the Centralia Balloon Fest was cancelled and rescheduled for Sunday, August 18th at 1:30 pm. Please come out and join us for an afternoon of great classic rock!



See Head East at the Centralia Balloon Fest in Centralia, Illinois on Saturday, August 17th (see new date and time above). Founding member and original drummer Steve Huston plans to make a special guest appearance joining Head East on stage at this show. Head East will perform on the main stage from 8:30 - 10:00 pm (see new date and time above). Admission to the festival is $3.00 payable at the gate. Parking is $3 per day at the north gate. Free parking is available at the old Centralia High School at 1000 E. Second Street. The South Central Transit (SCT) Shuttle is $1 per person - to and from the park on Friday and Saturday from 4:00 pm until 11:00 pm.

The Centralia Balloon Festival is held at Centralia Foundation Park. Family activities scheduled throughout the weekend include a craft fair, food vendors, free kids games and bounce houses, car shows, cardboard boat races, musical entertainment, and main stage bands. For additional information visit the Balloon Fest page of the Greater Centralia Chamber of Commerce linked below.

https://centraliachamber.com/balloon-fest


---
Knock-Off Copies of Head East 50th Anniversary Shirts



It has come to our attention that replicas of the Head East 50th Anniverary T-shirts are being sold online by websites that have not been authorized to sell our copyrighted designs. Please be advised that Official Head East T-Shirts are only currently sold at Head East concerts. For a short period in February 2019 we contracted with Silkwom, Inc. to have our 50th Annniversary shirts sold online through their website. Silmworm Inc. is the only business who we have authorized to sell our shirts. Since March of 2019, our Head East shirts have only been available for sale at live shows. We have gone to great lengths to post this fact on our Official Facebook Page and Official Website. If you come across any other websites who are producing and selling new Head East 50th Anniversary T-Shirts (other than Silkworm, Inc) please do not purchase from these sites. Fans who have purchased these unauthorized re-creations of our copyrighted design have been very displeased with the quality of the shirts and the unauthorized recreated design.

As we have stated before many times, if Head East sells any of their merchandise online in the future we will make an announcement ahead of time on our Official Website and social media sites. If you find a site that you think is procuding and selling unauthorized versions of our shirts, please contact us using the online form on the Contact Page of this website.


---
Arnolds Park Roof Garden Concert Series



Head East will perform at Arnolds Park as part of their Roof Garden Concert Series on Friday, August 30th. Doors open at 7:00 pm and the concert will begin at 8:00 pm. Tickets are $20.00 and can be purchased online through the Arnolds Park website. For more information on Arnolds Park Amusement Park or to purchase tickets for the concert visit their official website at the addresses below:

Arnolds Park Website
https://www.arnoldspark.com/

Buy Concert Tickets:
https://blinkamusement.idealss.net/eTick/Default.aspx?SiteID=2370&PageID=Concerts




---
McGrath Dubuque Harley-Davidson Concert Photos



Photos from Head East's August 3rd Concert at the McGrath Harley-Davidson Rev Up Summer Event in Dubuque, Iowa can be viewed in our 2019 Concert Gallery at the address below.

www.head-east.com/concertgallery2019pt8.html


---
Head East and The Sweet at the Riviera Theatre



Head East returns to the Riviera Theatre in North Tonawanda, New York on Saturday, September 7th. Head East will co-headline with The Sweet best known for the hits

Little Willy

,

Ballroom Blitz

,

Fox on the Run

, and

Love is like Oxygen

which all reaced the top 10 on Billboard's Hot 100 singles chart in the 70s.

Tickets may be purchased on-line, over the telephone at (716) 692-2413 or in-person at the Theatre's Box Office. On-line sales are available 24 hours a day, 7 days a week. The Box Office is open for telephone and in-person sales Monday-Friday from 10:00am to 4:00pm. Tickets may also be purchased one hour prior to all events at the box office. For additional information or to purchase tickets visit the Riviera Theatre Website linked below.

Riviera Theatre Homepage

Purchase Tickets (Tickets go on sale to the public on Jan. 25th at 10:00 am (EST).


---
Vette City Motorcycle Music Festival



See Head East live in concert on September 14th at the Vette City Motorcyle Music Festival. This four day event from 12-15 September features over 20 bands. This event begins with a kick-off party from 5:00 pm to 11:00 pm on Thursday, September 12th at Harley Davidson Bowling Green on Cumberland Trace Road. The kick-off party is free and open to the public. The kick-off part will be followed by 3 days of music at Edge Hill Farm located at 13101 Louisville Road, Oakland, Kentucky. Head East will perform on Saturday, September 14th only along with Great White, Jackyl, and several other bands. Ticket are available online through the festival's website or can be purchased locally at Harley Davidson Bowling Green, The Bowling Green Daily News, and Pin Up Baggers Motorcycle Dealership in Newburgh, Indiana. For additional information visit the Vette City Motorcycle Music Festival website or Facebook page linked below:

Vette City Motorcycle Music Festival Official Website

Vette City Motorcycle Music Festival Official Facebook

Buy Tickets - Vette City Motorcycle Music Festival


---
Iconic Fest 2019 Concert Photos



Photos from Head East's July 12th Concert at Iconic Fest in Brainerd, Minnesota can be viewed in our 2019 Concert Gallery at the address below.

www.head-east.com/concertgallery2019pt7.html


---
Reunion Concert - Celebrate St. Peters



See Head East live in concert on the main stage at Celebrate St. Peters held at 370 Lakeside Park, St. Peters, Missouri on Saturday, September 21st. This is a Head East Reunion Concert featuring a special guest performance by A&M Records era band members Steve Huston, Mike Somerville, John Schlitt, and Roger Boyd along with the current line-up of the band. Journey tribute band SFO will kicks things off at 7:00 pm. A brilliant fireworks display will follow SFO's opening set, then Head East will take the stage performing a 90 minute set which will include their classic debut album "Flat As A Pancake" played cover to cover.

Friday night's main stage entertainment will kick off at 7:00 pm with Contagious from St. Louis, followed by Alyssa Lynn Little, and Country Legends Sawyer Brown who will headline and close the show.

In addition to musical entertainment, Celebrate St. Peters has carnvial rides, games, food & beverage vendors, and much more. And best of all it is free! So be sure to come out and have some fun and remember to bring lawn chairs or blankets to sit on at the concert. For additional details visit the Celebrate St. Peters webpage page linked below:

https://www.stpetersmo.net/celebrate-st-peters-.aspx



Click play to view Celebrate St. Peters band announcement video




---
Rock-N-Q On The Planes Festival



See Head East live in concert on Friday, October 18th at the Rock-N-Q On The Planes Festival held on the grounds of the Great Bend Expo Complex in Great Bend, Kansas. The bands Homebrew, Banshee, and Jake Gill are scheduled to open the show prior to Head East taking the stage for a 90 minute set. Headliner Skid Row will follow and close the show. Start times for each band have not yet been announced. Additional bands will play the following day on Saturday, October 19th. For more information see the event flyer below or visit the event's official website at the address below:



Rock-N-Q Festival Website

:
https://www.rocknq.com



Buy Tickets Through Wheatstatetickets.com

:
https://www.wheatstatetickets.com/e/rock-n-q-on-the-plains/tickets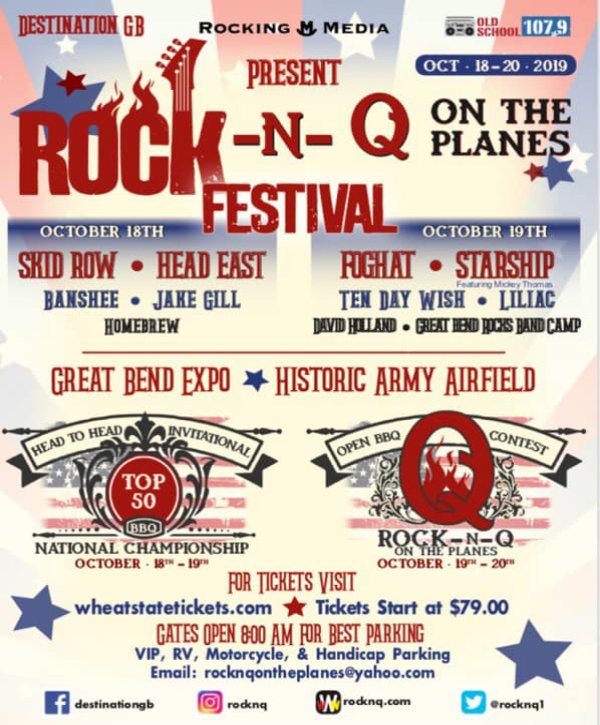 ---
Starlite Event Center Concert



See Head East live at the Starlite Event Center in Wahoo, NE on Saturday, October 19th. Doors open at 6:30 pm and Hardknox will kick off the music at 7:30 pm followed by Head East who will headline and close the show beginning at 9:00 pm. Advance Tickets are $25 through August 31st. Advance ticket prices will increase to $30 beginning September 1st and tickets will be $35 at the door. Tickets will be available online through the venue's website beginning August 1st. For more information visit their official Starlite Event Center website at the address below:

Starlite Event Center Website
https://www.starliteeventcenter.com/


---
Rock Legends Cruise VIII - 27 Feb to 2 March



Head East has been added to the band line-up of Rock Legends Cruise VIII which sails from Port Everglades in Fort Lauderdale, FL. on Feb. 27th and returns on Mar 2nd. More than 20 legendary acts will perform on the cruise aboard Royal Carribean's Independence of the Seas cruise ship. The following bands and solo performers are currently scheduled to perform on the cruise:

Roger Daltry, Paul Rodgers, Roger Hodgson, Robby Kreiger, UFO, Uriah Heep, Jonny Lang, Sebastian Bach, Elvin Bishop, Mark Farner, Atlanta Rhythm Section, The Immediate Family, Wet Willie, The Artimus Pyle Band, Head East, Gary Hoey, Angel, Larkin Poe, Two Wolf, Brandon "Taz" Niederauer, Steve Rodgers, Cour Supreme, and Goose.

The cruise is close to being sold out and a limited number of cabins remain for this cruise which was first announced in 2018. Tickets have been on sale since October 2018 and bands have been added to the line-up periodically since the announcement. Fans interested in this cruise should reserve their cabin now before they are all sold out. There is a wealth of information about the cruise on their official website and interested fans should read through the information prior to making a purchase. For more information visit the Rock Legends Cruise VIII website at the addresses linked below:

Rock Legends Cruise VIII Homepage:
https://rocklegendscruise.com

Rock Legends Cruise Cabin Pricing:
https://rocklegendscruise.com/pricing/

Rock Legends Cruise Reservations:
https://rocklegendscruise.rezmagic.com/booking/reservation/start?tripid=2980


---
Head East: A Labor Of Love - Now Available



Steve Huston's new book Head East: A Labor of Love is now available online through the Amazon, Barnes and Noble, and Books-A-Million websites. His book will also be available at the merchandise table at live shows beginning in January 2019. Steve is a founding member of Head East and the band's original drummer. The book contains 236 pages, 23 photographs (several in full color) and 33 stories about Steve's adventures with Head East. Steve will be available to sign books at any 2019 "Reunion Show" or any other Head East concert where he is making a special guest appearance. Fans who have already purchased Steve's book prior to attending a concert may bring their books to the concert for Steve to sign. To learn more about Steve and his newly released book visit his official website at the address below:

www.headeast-stevehuston.com

The book is available in paperback and ebook formats (Amazon Kindle and Barnes and Noble Nook). To order Steve's new book online go to Amazon, Barnes and Noble, or the Books-A-Million websites linked below:

Head East: A Labor of Love @ amazon.com

Head East: A Labor of Love @ barnesandnoble.com

Head East: A Labor of Love @ booksamillion.com


---
Head East 50th Anniversary Tour



Head East's 50th Anniversary Tour in 2019 will feature the band's debut album

Flat As A Pancake

played in its entirety during headlining shows. The band will also perform hits and fan favorites from "

Flat

" through their most recent release

Raise A Little Hell

. Additionally, some shows will be "Reunion Shows" with band members John Schlitt, Mike Somerville, and Steve Huston from the band's A&M Records years joining Roger Boyd and the current Head East line-up for the performance of the

Flat As A Pancake

album and a few additional Head East songs from the band's A&M Records era.

Dates and locations for the 2019 reunion shows are forthcoming and will be annotated as "Reunion Shows" on our website once posted. Check our tour dates page periodically for updates to the 2019 schedule.

Head East Tour Page