Head East, April Wine, & BÖC at the Genesee Theatre
Head East, April Wine, and Blue Öyster Cult will be live in concert at the Genesee Theatre in Waukegan, IL on Saturday, October 7th. Ticketmaster and Genesee Theatre internet presales begin on May 23rd at 10:00 am (CDT). Tickets go on sale to the public on May 26th at 10:00 am (CDT). Tickets range from $39.50 - $89.50. Tickets are available by visiting the Genesee Theatre Box Office, all Ticketmaster outlets, Ticketmaster.com & Ticketmaster charge by phone at 800-982-2787.
---
Golden Voice Recording Studio Documentary
Head East recorded their first two studio albums (Flat As A Pancake and Get Yourself Up) in their home state at Golden Voice Recording Studios in South Pekin, Illinois. Golden Voice Recording Company, which was started by Mary Ann Milam and her husband Jerry in the early 60s, will be the subject of a documentary expected to be completed later this summer.

Golden Voice was the studio of choice for several local Illinois bands and solo artists, many of which would go on to greater success, including Dan Fogelberg, Gary Richrath (REO Speedwagon), Jonathan Cain (Journey), and Head East. For more information on this upcoming documentary visit the Pekin Daily Times newspaper article linked below:



Pekin Daily Times Newspaper Article



Roger Boyd holds the Flat As A Pancake LP
recorded at Golden Voice Recording Studio
---
Fans Treated to Special Guests at Carlyle Lake Concert
Fans who attended the Carlyle Lake 50th Anniversary Celebration Music Festival on Sunday, June 11th were treated to special guest appearances by several former band members. Former crew members from the band's heyday in the 70s were also in attendance. Fans flew in from as far away as Washington State to see and meet with the current and former Head East band members and crew.

Former band members John Schlitt, Steve Huston, Larry Boyd, Dan Odum, Steve Riker, and Jim Murphy were in attendance as were former crew members Dennis Fisher, Lenny Hortter, Darrel Pruehsner, and Stan Gill. Former Head East Manager Alan Traylor and wife Debbie Gautreau Traylor who provided backing vocals on Head East's "Choice of Weapons" album were also present for the event. View concert photos from this event at:



http://www.head-east.com/concertgallery2017.html


The Rikers twins flank former Head East Frontman Dan Odum
---
WGLO 95.5 FM Interview with Head East Lead Vocalist Darren Walker
In conjuction with Head East's appearance at the Limelight Eventplex in Peoria, IL on February 24th, lead vocalist Darren Walker was interviewed by radio personality Doc Watson of WGLO 95.5 FM.

Click the play button below to listen to this interview.




---
WYMG 100.5 FM Interview with Head East Band Leader Roger Boyd
In conjuction with Head East's appearance at the Limelight Eventplex in Peoria, IL on February 24th, Head East band leader and keyboardist Roger Boyd recently spoke with radio personalities Lynch and Liz from WYMG 100.5 FM serving Springfield, Illinois. Listen to the interview on Sound Cloud linked below: https://soundcloud.com/100-5-wymg/roger-boyd-head-east-intv-2-22-17
---
Kankakee Daily Journal Newspaper Article
The Kankakee Daily Journal Newspaper recently ran the article, "Head East to play Watseka Theatre" in conjunction with the band's appearance at the Watseka Theatre in Watseka, IL on Saturday, February 25th. The article features an interview with Head East band leader and keyboardist Roger Boyd and can be read online on the Daily Journal website linked below:


Read The Daily Journal Article
---
Head East & AC/DC - August 1977, Milwaukee, Wisconsin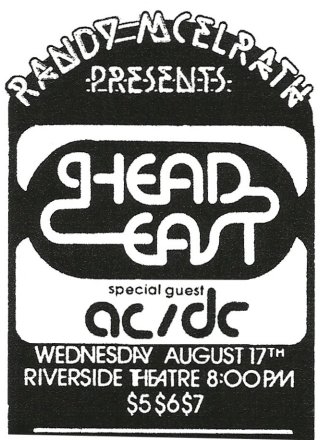 During Head East's 47 year career many up and coming bands have been opening acts for Head East. Some have gone on to stardom while many others have faded into obscurity. Of those who gained stardom, Van Halen and AC/DC immediately come to mind. AC/DC were special guests of Head East at their August 17, 1977 show at the Riverside Theater in Milwaukee, Wisconsin. The concert which attracted a near capacity crowd of about 2,000 fans was one of nearly 200 shows performed by Head East that year.
By most accounts the show was not unlike the hundreds of others performed that year, but author Jesse Fink suggests in his book The Youngs: The Brothers Who Built AC/DC that the meeting of bands may have influenced one of AC/DC's biggest hits. Jesse gives many examples of where AC/DC either consciously or subconsciously "pinched" from other bands early in their career, stating that AC/DC's 1980 song You Shook Me All Night Long has "undeniable flecks of Head East's opening riff in Never Been Any Reason" and that "Illinois band Head East's 1975 hit Never Been Any Reason, written by guitarist Michael Somerville, also informs 1980's You Shook Me All Night Long. Intriguingly, AC/DC supported Head East for one show at the Riverside Theater in Milwaukee in August 1977."
Prior to doing research for The Youngs: The Brothers Who Built AC/DC Jesse Fink knew little about Head East. In his 2014 article titled, 10 AC/DC Songs That Are More Important Than You Think when talking about You Shook Me All Night Long he states, "But whatís also really interesting about this song is how much the opening guitar riff sounds similar to Head Eastís Never Been Any Reason. I didnít know a hell of a lot about Head East before I started working on this book, but came across Never Been Any Reason in the process of doing my research and was blown away when I heard it for the first time."
Below we have short mp3 segments of the opening guitar riff to both songs. Click on each play button and give them a listen and see if you hear the similarities.
| | | |
| --- | --- | --- |
| | | |
| Never Been Any Reason Opening Guitar Riff | | You Shook Me All Night Long Opening Guitar Riff |