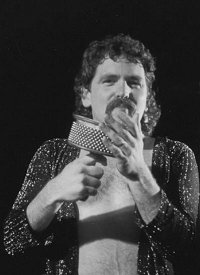 Dan Odum



Dan Odum first joined Head East on drums and vocals in 1971. He remained with the band until he was drafted into the Army in 1972. Though Dan was originally an Army medic, he was able to join an Army Choir shortly after being assigned to Germany and had the opportunity to perform throughout Germany and many parts of Europe.

After serving his tour in the Army, Dan returned to his hometown of Danville, Illinois where he held various jobs until Roger Boyd called him in the spring of 1980 and asked him to rejoin Head East as their lead singer.

He remained with the band for two albums ( US 1 and Onward And Upward ) before leaving in the early 80s. Dan made a special guest appearance with Head East at Carlyle, Illinois in June 2017 and shared lead vocals with current lead vocalist Darren Walker on Take My Hand from the Onward and Upward album. Dan currently resides in Southwestern Florida where he has played drums and sang for several local bands since leaving Head East.