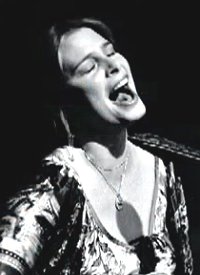 In Memory of




Jean Mullen



Jean Francis Mullen, died tragically in an auto accident in Utah on August 29, 1978 at the age of 26. Jean was born in Hondo, Texas where she lived until the age of 16 when her family moved to Springfield, Illinois where she graduated in 1970.

Jean was a sophomore at Illinois State University in Normal, Illinois when she auditioned for and was selected as the new lead vocalist for Head East in 1972. After a year of singing hard rock music in smoke-filled venues, Jean's voice began to feel the strain and she decided to leave the band and step out on her own as a solo performer.

In January of 1975, Jean performed on the Tonight Show singing "House at Pooh Corner" written by Kenny Loggins. Jean moved to California in 1975 and in 1977 she formed the Jean Mullen Band. While based in the Los Angeles area, Jean found inspiration and love in the Sierra Mountains and wrote many songs about the beauty of the mountains, the fresh air, the trees, rivers, and her feelings of love.

You can learn more about Jean and listen to some of her songs on Jean's Website and on YouTube.