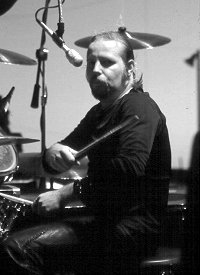 Steve Huston



Steve Huston grew up on a cattle ranch in Southern Illinois about 65 miles east of St. Louis. The closest town was 3 miles away (Irvington - pop 800) and since nobody anywhere else had ever heard of it, when he was away from home in say, New York or California and people asked where he was from he just said "St. Louis." After all, he grew up with St. Louis radio and TV and cheering for the Cardinals.

When he met Roger Boyd and they formed the TimeAtions, many times the band would set up their equipment in the back yard at Steve's parent's house for practice. The cows would gather along the fence to watch and the driveway would soon be filled with neighbor's cars from miles around.

After leaving Head East, Steve went back to school and earned 2 masters degrees, one from Goddard College in Vermont and one from the University of London. Steve teaches in the Audio Production department at the Art Institute of Houston, in Texas but still continues to perform with Head East a few times each year.

Steve is a prolific writer whose songs remain fan favorites to this day. Among many other songs that appear on Head East albums, Steve composed Jefftown Creek, City of Gold, and co-authored Gettin' Lucky with Mike Somerville. Steve has been selected by ASCAP (American Society of Composers, Authors, and Publishers) to represent them to the United States Senate on several occasions to discuss issues they favor or oppose. So far ASCAP has sent Steve up (to the hill) four times.