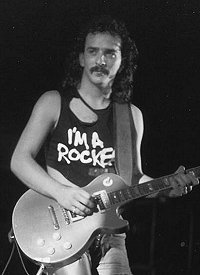 Tony Gross



Tony Gross joined Head East in the Spring of 1980 at the age of 19 after meeting Roger Boyd at an after concert party in Rochester, NY. Tony played a 3-track demo tape for Roger and was soon enlisted to be the band's new guitarist, replacing Mike Somerville who left along with Dan Birney and John Schlitt when the classic line-up dissolved after their 12 April 1980 show in Kearney, Nebraska.

Tony's stint with Head East lasted from 1980 until 1984 during which the band released two albums. Tony's song "Sister Sister" was included on the US 1 album in the fall of 1980 and both "Show Me" and "Ready To Go" were on the Onward And Upward album in 1982. He returned briefly in 1987 after a 3-year absence as the band was finishing the Choice of Weapons album but soon departed.

After leaving Head East, Tony's interest in studio design and music production led him to form GFI Music Publishing, Inc., and to open his first full-service recording studio. Tony currently resides in the Rochester, New York area where he is the President of GFI Productions. To learn more about Tony visit the GFI Website.